Plagiarism Detection Software Misconceptions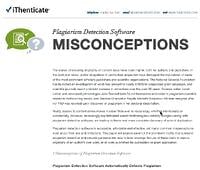 Free paper: 7 Misconceptions of Plagiarism Detection Software
The stakes of ensuring originality of content have never been higher, both for authors and publishers. In the past year alone, public allegations of unchecked plagiarism have damaged the reputations of some of the most prominent scholarly publishers and scientific organizations.
Ready access to content online makes it easier than ever to reuse copy, whether intentionally or accidentally. However, increasingly sophisticated search technologies, along with plagiarism detection software, are leading to faster and more complete discovery of acts of duplication.
Plagiarism detection software is accessible, affordable and effective, yet many common misperceptions exist about its use and limitations. This paper explores seven myths that surround plagiarism detection and provides guidance on how to best use these tools to ensure originality of an author's own work, or of work submitted for publication or grant application.