Plagiarism and Misconduct in Medical Research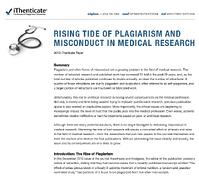 Report Highlights Rising Tide of Plagiarism in Medical Research, Outlines Recommendations for Researchers, Journals
As increasing rates of plagiarism continue to plague industries from magazine publishing to music and politics, a new report by iThenticate highlights the toll of duplication on medical research -- "Rising Tide of Plagiarism and Misconduct in Medical Research."
When factored for the increase in articles published, there has been a 10-fold increase in the rate of article retraction over the past 20 years. Unlike many other published works, where instances of plagiarism mainly pose ethical challenges, misconduct and duplication in medical research can have a direct negative impact on the health and treatment protocol of patients around the world.
Highlights of the report:
Instances of plagiarism by researchers and physicians around the world, tracing the paths of reputations needlessly marred and public trust in the medical profession eroded.
Growing evidence that plagiarism in submitted materials also hampers dissemination of legitimate findings.
A look at how all members of the healthcare field, from students and professors to researchers, physicians and journal editors can implement systems and adhere to practices that can detect and prevent plagiarism and misconduct.
The report features exclusive insight from Kim Mitchell, Journal Publications Director at Landes Bioscience. Publishers of more than 40 journals, one of its journal rejected 221 article submissions for plagiarism in 2012 alone. Of these, nearly one in five contained more than 40 percent plagiarized material.
Follow the discussion about the report and share your thoughts by posting a comment on the iThenticate Blog.
If you are an iThenticate customer, you may skip filling out the below form and email us for a direct link to the paper.