The Ethics of Self-plagiarism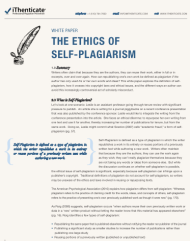 Self-plagiarism is an area of increasing importance within scholarly research. Self-plagiarism may be one of the most dangerous forms of misconduct due to the lack of understanding of the ethics involved. The pressure to publish, combined with an ever-growing body of scholarly research, makes it difficult for publishers and institutions to investigate and prevent cases of such duplication.

iThenticate's paper, The Ethics of Self-Plagiarism, offers a clear definition of self-plagiarism and how authors and publishers can avoid this issue and the costly retractions associated it.
Clear definitions of self-plagiarism and a better understanding about the ethics involved in repurposing one's own work
How self-plagiarism can infringe upon a publisher's copyright
How to avoid self-plagiarism and retractions
Follow the discussion about the white paper and share your thoughts by posting a comment on the iThenticate Blog.