True Costs of Research Misconduct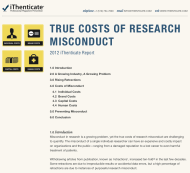 Due to the growing research population and a pressure to 'publish or perish,' an increasing number of researchers have taken to cutting corners, resulting in falsified research, fraudulent data, paraphrasing, duplication and blatant plagiarism. This research misconduct creates a ripple effect of costly damages for researchers, organizations and the general public.
What are the consequences of plagiarism in research? iThenticate's new report, "True Costs of Research Misconduct," explores the effects of plagiarism from human to capital costs as caused by the rise in scholarly misconduct in the last decade.
What are the most damaging consequences of plagiarism and other forms of misconduct?
What are the scope and depth of damages stemming from a single incidence?
What are the monetary costs facing an organization to conduct an investigation?
How can misconduct and research plagiarism be prevented?
BONUS! Download the report and you will receive an infographic that illustrates the highlights of the report.
Follow the discussion about the report and share your thoughts by posting a comment on the iThenticate Blog.