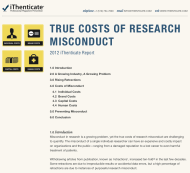 A Growing Industry. A Growing Problem. The misconduct of a single researcher can have an expansive and costly impact on organizations and the public – ranging from lawsuits to lost grant money to misdiagnosis.
Falsified research, fraudulent data, paraphrasing, duplication and blatant plagiarism are all examples of misconduct that have increased over the past decade. The growing pressure to publish exacerbates these problems. Increases in the number of researchers, investment in research, and the number of publications have put pressure on the academic research community to publish scholarly work.
A new report by iThenticate, titled, True Costs of Research Misconduct, identifies and assesses four categories of damages caused by misconduct – individual, brand, capital and human.
The report includes a look at the reasons for the rise of research misconduct; effectiveness of retractions; and preventative measures being adopted by publishers and organizations to control and contain the problem.
Read the iThenticate press release