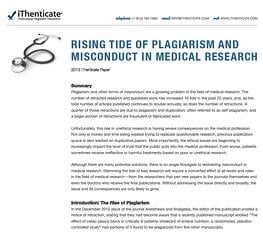 A report by iThenticate titled, "Rising Tide of Plagiarism and Misconduct in Medical Research," is now available.
The iThenticate report profiles instances of plagiarism from researchers and physicians around the world, tracing the paths of reputations needlessly marred and public trust in the medical profession eroded. It also highlights how all members of the healthcare field, from students and professors to researchers, physicians and journal editors can implement systems and adhere to practices that can detect and prevent plagiarism and misconduct.
Download the free report (PDF)
Summary
Plagiarism and other forms of misconduct are a growing problem in the field of medical research. The number of retracted research and published work has increased 10 fold in the past 20 years, and, as the total number of articles published continues to double annually, so does the number of retractions. A quarter of those retractions are due to plagiarism and duplication, often referred to as self-plagiarism, and a larger portion of retractions are fraudulent or fabricated work.
Unfortunately, this rise in unethical research is having severe consequences on the medical profession. Not only is money and time being wasted trying to replicate questionable research, precious publication space is also wasted on duplicative papers. More importantly, the ethical issues are beginning to increasingly impact the level of trust that the public puts into the medical profession. Even worse, patients sometimes receive ineffective or harmful treatments based on poor or unethical research.
Although there are many potential solutions, there is no single floodgate to restraining misconduct in medical research. Stemming the tide of bad research will require a concerted effort at all levels and roles in the field of medical research—from the researchers that pen new papers to the journals themselves and even the doctors who receive the final publications. Without addressing the issue directly and broadly, the issue and its consequences are only likely to grow.
Related
Ethics of Self-Plagiarism (PDF)