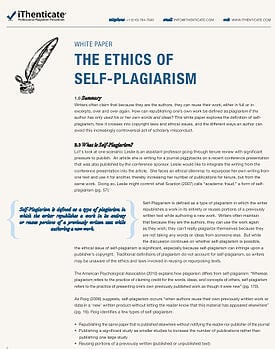 Writers often maintain that because they are the authors, they can reuse their work as they please; it couldn't be defined as "plagiarism" since they are not taking any words or ideas from someone else. However, while the debate on whether self-plagiarism is possible continues, the ethics of self-plagiarism is significant, especially because self-plagiarism can infringe upon a publisher's copyright.
Traditional definitions of plagiarism do not account for self-plagiarism, so writers may be unaware of the ethics and laws involved in reusing or repurposing texts.
Addressing this growing area of concern (for authors, researchers, publishers and organizations alike), iThenticate has examined the definitions of self-plagiarism and offers advice on how self-plagiarism can be avoided in its new white paper, "The Ethics of Self-Plagiarism."
Download the free self plagiarism white paper »
Avoiding Self Plagiarism
Organizations and individual authors and researchers can take preventative measures in their writing practices and editing processes, including the use of plagiarism detection technology that helps detect potential self-plagiarism before publication. The white papers gives readers insight on best practices from the following resources:
Related
Self-plagiarism Webcast (Video)
What researchers and journals can do to prevent self-plagiarism (Video)