According to a recent article on RIA Novosti, a review by the Russian State Library has confirmed earlier plagiarism allegations against Pavel Astakhov, the country's ombudsman for children's rights.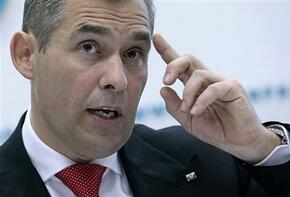 The allegations were first filed in April 2013 by Dissernet, a Russian group that has been discovering and reporting on alleged plagiarisms by officials in the country. They accused Astakhov of plagiarizing his dissertation, saying that significant portions of it were lifted without citation from earlier research.
When Dissernet made the allegations, Astakhov rebuked them saying that his dissertation was based on his masters thesis. However, according to Dissernet, the review by the Russian State Library not only supported Dissernet's findings but expanded them, saying that approximately 31 percent of the dissertation came at or near-verbatim from uncited sources and another third was recycled from Astakhov's previous work.
All in all, the review found that some 99.32 percent of the dissertation was plagiarized, paraphrased from other sources or recycled from Astakhov's earlier work.
However, there seems to be some dispute about this review as, according to a separate article in The Moscow Times, such a review never took place at all. The Russian State Library has denied conducting any review, despite Dissernet's claim that it was conducted in September.
Regardless, Astakhov has once again rebuked the findings saying that, at the time his dissertation was defended, state authorities found it to be 80 percent original and qualifying for a degree.
However, the debate over whether Astakhov plagiarized or not is largely moot. The education ministry has stated that challenges to a degrees validity are invalid after a three-year period. This means the dissertation, which was defended by Astakhov in 2002 at the Interior Ministry university in Moscow, can not be challenged nor the degree revoked.
Likewise, the Kremlin has declined to terminate Astakhov over the plagiarism allegations and the new allegations are unlikely to change that, especially with the Russian State Library now denying such a check was performed.
When it's all said and done, the difference between the Russian handling of plagiarism scandals and the recent German cases is striking. Where Germany has been transparent and quick to research accusations of plagiarism that are decades old, including revoking degrees in many cases, in Russia it is unclear if an analysis was even performed and, since the three year moratorium for filing such allegations has passed, no action will be taken regardless.
Both countries have had an issue with politicians using degrees obtained questionably to further their political careers. But where Germany has made an effort to root out politicians who cheated to obtain their credentials, the Russian government, in both Astakhov's case and other recent plagiarism scandals, seems to be content with maintaining the status quo, even as the public in Russia increasingly scrutinize their leaders for plagiarism independently.
While the interest of the Russian citizenry in the academic integrity of their leaders is a welcome development, without greater cooperation from the government, those efforts will do little good.
Related