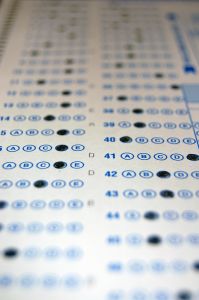 The Journal Register Company recently took on plagiarism at one of its Connecticut publications in a very unique way. After two incidents of plagiarism in a time span of three months, the editor of the Journal Register's Connecticut papers, Matt DeRienzo, decided to utilize an evaluation technique employed in middle schools across the country: a pop quiz.
Craig Silverman from Poynter.com reported on the incident: DeRienzo sent his 113 employees a 5 question quiz via Google Docs that consisted of a series of questions on what constitutes plagiarism and proper attribution. Employees that didn't score 100% on the quiz were required to attend an ethics training session to learn about citation and attribution.
Condescending way to treat professionals? Or effective means?
In the fast-paced and pressure-pumped world of publishing, it's not a stretch to say that employees might forget 'Plagiarism 101' when attempting to make a deadline or catch a breaking story. That's why a return to the basics of learning might be what it takes to ensure that a newsroom is plagiarism free. Throughout secondary and higher education, students are required to take quizzes for the purpose of re-enforcing their knowledge and ensuring they know the material. Journalists, grad students, editors and anyone else that is publishing sourced materials might also be well suited to catch up on the basics of attribution.
In the case of the Journal Register, the quiz was employed post-plagiarism incident. In this instance, the damage was already done and they were simply preventing more occurrences as well as ensuring their readers that they were taking all necessary actions. However, preemptive action is always the better course in order to prevent damage before it's done.
One preemptive measure could be administering plagiarism quizzes when a new employee is hired to ensure that they are aware of the rules. For those that scored poorly on this 'entrance quiz' additional training could be provided. Random yearly checks could also be utilized, to confirm that an employee's knowledge of plagiarism and attribution was still sharp, even after years of working in the field.
Despite the potential effectiveness of a plagiarism quiz; there will always be exceptions that still slip through the cracks; those few bad apples that know the rules but decide not to play by them. For cases like these, making use of plagiarism detection technology is the only other solution to prevent damages to a publication.
Citations
Silverman, Craig. "After plagiarism, Journal register papers test journalists' knowledge of attribution, plagiarism." The Poynter Institute. Feburary 7th, 2012. http://www.poynter.org/latest-news/regret-the-error/162175/after-plagiarism-journal-register-papers-test-reporters-knowledge-of-attribution-plagiarism/