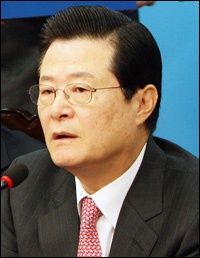 '
The President-elect's chief of staff, Huh Tae-yeol, was accused of plagiarizing his doctoral thesis
According to the Korea Herald, the South Korean academic community is reeling from a plagiarism allegation that could see more that 200 professors face criminal charges for copyright infringement and lose their positions.
The news comes from the Uijeongbu District Prosecutors' Office, which says it has called in some 200 professors from 50 universities over the past three months. They've been questioning the professors about books published under their names that were originally published by other academics.

According to prosecutors, the process was that professors, as they came up for a new position or a review of their current one, would put their name and a new cover on a book published by another author and republish it. According to prosecutors, the publishers were complicit in the scam, using it as a chance to move unsold inventory. As a result, four publishing employees have also been indicted.

The prosecutors also claim that the original authors turned a blind eye to it as well, hoping to cull good favor with the publishers or even having taken kickbacks for their cooperation.

The report also indicates that the practice is not new, having been around since 1980 but has only recently been detected.

Copyright infringement in South Korea is a criminal offense and carries with it a penalty of up to five years in prison and a fine of 50 million won ($42,000). Universities in the country have a policy against rehiring any professor who has been fined more than 3 million won ($2,500), making it likely that the professors will lose their positions and be ineligible to be rehired.

According to prosecutors, most of the professors have admitted to their involvement in the practice.

South Korea has struggled on issues of academic integrity. In 2005, a story about a South Korean researcher, Hwang Woo-suk, successfully cloning human embryos attracted international attention. However, it was quickly revealed that the research was fabricated, forcing the disciplining of Hwang.

In 2013, the President-elect's chief of staff was accused of plagiarizing his doctoral thesis, and several prominent celebrities in the country have also faced allegations of plagiarism including a TV host and a member of the International Olympic Committee.

However, the country has never seen anything like this with evidence of a broad and system problem with plagiarism. Not only are the numbers of professors involved jaw-dropping, but it appears the fact that publishers were complicit in the dishonesty makes it all the worse.

Under normal circumstances, publishers are an important line of defense against academic dishonesty. To have publishers not only turn a blind eye to it, but actively help and encourage it is a tremendous betrayal.

What the Uijeongbu District Prosecutors' Office has uncovered appears to be one of the largest and most systemic plagiarism scams in the world. However, if the office makes good on its promises to prosecute the cases and those involved lose their positions, then it may be something the nation can quickly leave in the past, a product of a bygone era.

While it's unlikely that many, if any, involved will see jail time, given the policies in the nation, it's still likely that the punishments handed down will prevent those behind the plagiarism from ever working in the country's schools again.

But, if the allegations are true and those behind the misdeeds are allowed to stick around, so will their actions, tainting those who are doing good research by creating uncertainty about their work.

Serious plagiarism scandals require serious responses and, while we might not think of the criminal system as being a tool for it, in this case it could combine with university policy to send a serious message that this practice has been uncovered and it will not be tolerated any longer.
The opinions expressed in this article are those of the author, Jonathan Bailey of Plagiarism Today, and do not reflect the opinions of iThenticate.