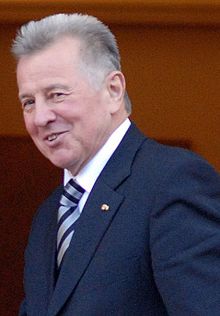 Earlier this month Hungarian President Pal Schmitt was accused of plagiarizing his 1992 doctoral thesis. The controversary has heated up as several hundred demonstrators gathered on Saturday calling for his resignation, and claiming he is unfit to be in office.

According to HVG, 180 pages of Schmitt's 215 page thesis was a "word-for-word translation" of a text written in French by Bulgarian sports historian and diplomat, Nikolai Georgiev (now deceased), who reportedly collaborated on research projects with Schmitt in the 1980s at Budapest Sports University.

President Pal Schmitt has rejected charges of plagiarism. According to Politics.hu, he said that "the paper had been based on primary data, using 21 source materials altogether... the basic material he drew on, some of which was also made use of by the Bulgarian Nikolay Georgiev, was not anyone's intellectual property."
The case is currently under investigation by the Hungarian Accreditation Board.
Related: German Defense Minister Karl-Theodor zu Guttenberg resigns due to plagiarized doctoral thesis
Check dissertations and thesis for plagiarism before submission
Image courtesy of Wikipedia.
Citations
"Presidential plagiarism scandal deepens amid charges passages of thesis copied from German study" January 20, 2012. Politics.hu. http://www.politics.hu/20120120/presidential-plagiarism-scandal-deepens-amid-charges-passages-of-thesis-copied-from-german-study/