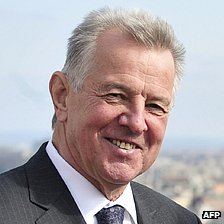 Hungarian President, Pal Schmitt, has officially resigned due to plagiarism accusations. In Monday's vote by Hungary's parliament, President Schmitt's resignation was accepted by a margin of 338-5. Hungary's Fidesz party, led by Prime Minister Victor Orban, will initiate negotiations with the country's other parties to find a successor for President Schmitt.
Schmitt, who was elected to the office in 2010, initially resisted calls for his resignation, which began in January after is was reported that much of his doctoral dissertation (written 20 years ago) had been copied and pasted. That pressure intensified when the Senate of Semmelweis University revoked his doctorate after following up on that report, leading to Schmitt's official resignation before Parliament on Monday.
During his resignation speech, Schmitt denied any intentional wrongdoing. Drawing on personal experience as an Olympic gold medal winner in fencing in 1968 and 1972, Schmitt's dissertation was written on the modern Olympic Games. He stated that he did not intentionally copy from the work of others and will appeal the revocation of his doctorate. Schmitt cited the controversy as his reason for stepping down, claiming that he felt a duty to resign as his personal issue was dividing the country.
The plagiarism scandal has also resulted in the resignation of Tivadar Tulassay, the head of Semmelweis University. This exemplifies the trickle-down effect that a case of plagiarism can have in any sector -- whether political, business or journalistic. Tulassay, who supported the revocation of Schmitt's doctoral degree, stated he was stepping down because had "lost the confidence of the Ministry of National Resources," the agency in charge of educational affairs in Hungary, due to the scandal.
Schmitt's election to the presidency was supported by Prime Minister Orban and the governing Fidesz party, which has seen a great deal of controversy in its own right. This plagiarism scandal is just the latest to affect the often shaky political scene in Hungary.
Instances of doctoral dissertation plagiarism are certainly not uncommon lately in the international political arena. This case bears a striking resemblance to the scandal involving former German defense minister Karl-Theodor zu Guttenberg in March 2011. Both Schmitt and Guttenberg were found to have plagiarized their doctoral dissertation/thesis. In both cases, the politician were stripped of their doctorate. And as a result of the scandals, both politicians ended up resigning their positions at integral points in their careers.
One would naturally expect that we will see more of these unfortunate circumstances moving forward.
Citations
Pidd, Helen. "German defence minister resigns in PhD plagiarism row." The Guardian. March 1st, 2011. http://www.guardian.co.uk/world/2011/mar/01/german-defence-minister-resigns-plagiarism
Gorondi, Pablo. "Hungary parliment accepts president's resignation." SF Gate.com. April 2nd 2012. http://www.sfgate.com/cgi-bin/article.cgi?f=/n/a/2012/04/02/international/i063332D21.DTL&tsp=1