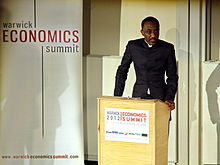 The Nigerian High Court this week set a date to hear plagiarism charges levied against Lamido Sanusi, Governor of the Central Bank of Nigeria. The charges are being brought forward by a Nigerian lecturer in the United States, Professor Victor Dike of the School of Engineering and Technology at the National University of Sacramento in California. Dike, the founder of California's Centre for Social Justice and Human Development, claims that Sanusi plagiarized his material in lectures on two different occasions.
The facts of the case will be reviewed by the court, so no controversy exists yet on that front. What is intriguing to the international community is the response challenge issued by Sanusi claiming that the Nigerian Court in Abuja has no jurisdiction over the case and should not have entertained hearing it in the first place. His objection is based on several legally devisive arguments, each which has speculable credibility, including "the territorial jurisdiction of the court" and the "statutory locus standi of the plaintiff."
Austin Aruba, Sanusi's attorney in the plagiarism case, entered the objections to the court on May 31st, but was initially opposed by plaintiff council Esan Itua on the grounds of a non-filed appearance. The judge reviewed the objectives and the opposition from opposing counsel, and then moved the matter forward to July 17 for a hearing on the jurisdictional objections submitted by Sanusi's counsel. The matter is the first of its kind in a plagiarism case and is certain to attract international media attention.
Sanusi Lamido Sanusi has been the Governor of the Central Bank of Nigeria since June of 2009. During that time he has been at the center of controversy on a number of issues, including the removal of four bank presidents after public funding bailouts and the elimination of Nigerian fuel subsidies to help minimize corruption. This is the first accusation of plagiarism levied against him in his career, which began in 1985.
Professor Dike specifically claims that Sanusi used references in his lectures from a number of his published articles without proper attribution. Professor Dike is citing verbatim examples from four of his previously published works, including "The State of Education in Nigeria and the Health of the Nation," and "Growth prospects for the Nigerian Economy."
Sanusi's camp is denying any intentional plagiarism on his part, claiming that references to previously published material used by Sanusi have always been properly cited. They are also, as mentioned above, challenging the right of the court to bring those accusations forward, which is somewhat conflicting to their insistence of Sansui's innocence. If he truly cited all the sources and did not commit plagiarism, why go through all the trouble to challenge the court itself and creating such a spectacle? Stay tuned to see how it all works out in July.
Citations
Abuja, Ihuoma Chiedozie. "Court fixes date for plagiarism suit against Sanusi." Punch Nigeria Limited. June 1st, 2012. http://www.punchng.com/news/court-fixes-date-for-plagiarism-suit-against-sanusi/
Soniyi, Tobi. "Plagiarism: Sanusi Challenges Court's Jurisdiction." This Day Live. June 1st 2012. http://www.thisdaylive.com/articles/plagiarism-sanusi-challenges-court-s-jurisdiction/117050/
Ugochukwu Ejinkeonye. "Prof Victor Dike Sues Nigerian CBN Governor Sanusi For Plagiarism." Blogspot. April 24th, 2012. http://ugowrite.blogspot.com/2012/04/prof-dike-sues-nigerian-cbn-governor.html
Wikipedia. "Sansui Lamido Sansui." May 10th, 2012. http://en.wikipedia.org/wiki/Sanusi_Lamido_Sanusi
Photo courtesy of Wikipedia