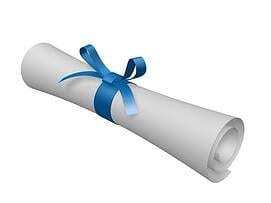 It's been another rough week for German Chancellor Angela Merkel. Annette Schavan, a member of Merkel's cabinet and the Education Minister for the country, has resigned after her Ph.D was revoked following an investigation into her doctoral thesis that found evidence of plagiarism.
Schavan's problems began in May 2012 when a blogger using the alias Robert Schmidt posted the allegations on his site and gave an interview to Die Welt, a national newspaper in Germany, on the topic. According to Schmidt, the concerns were originally discovered by activists using VroniPlag, a plagiarism-oriented Wiki founded in March 2011, but other members of the community did not feel the evidence was strong enough to move forward. Schmidt, instead, took matters into his own hands.
Initially, Schavan dismissed the challenge and encouraged her school, the University of Duesseldorf, to investigate the matter. School began the process last month and, after a six-hour meeting last week, voted 12-2 to invalidate her degree.
Originally, Schavan said that she is planning legal action against the school to force them to revalidate her degree. However, since then, she has indicated that she is "ashamed" of the allegations and it is widely believed that she is stepping down voluntarily to avoid her situation becoming a distraction in the upcoming election.
Unfortunately for Merkel, this wasn't the first Minister to resign over plagiarism problems. In March 2011 the German Defense Minister Karl-Theodor zu Guttenberg resigned after his doctorate was revoked in a similar plagiarism scandal. Guttenberg's case was the inspiration for the founding of VroniPlag, which has since been responsible for at least eight prominent politicians or professionals in Germany having their Ph.D's rescinded.
But while the similarities between Guttenberg's case and Schavan's, there are notable differences. The largest being that the allegations against Guttenberg centered around widespread verbatim plagiarism where the ones against Schavan center around rewriting secondary sources to appear as if she had read the primary one.
While it's unclear whether or not these differences will be enough to help Schavan get her degree back, especially following such a lopsided vote, it does give her grounds to keep fighting, even if she is no longer in a position of power. This, separates her case from Guttenberg's who, after just a few weeks, admitted the plagiarism and soon thereafter resigned without strongly challenging the allegations against him.
Fortunately for Merkel, most analysts believe that this scandal won't hurt her directly. However, it could still have significant political implications. Merkel, who is a member of the leading Christian Democratic Union, operates a coalition government with the Free Democrats. However, the Free Democrats may not clear the 5 percent needed to enter parliament, forcing Merkel to find a new coalition partner, most likely the Social Democrats. With such a tight race, and only months before September election, this scandal could help tip the scales.
That, however, is the nature of plagiarism scandals. Though plagiarism is seen as a serious offense by academic and creative circles, the average voter doesn't always take the allegations as seriously, especially if they aren't directly related to the politician's work. Therefore, the allegations have a greater impact in races that are closer, smaller and where more options are available.
In short, plagiarism allegations won't make most people abandon deeper-held political ideals, but they may cause them to shift to candidates with somewhat similar views, tipping some elections in a crucial way.
Related
Revocation of 3 German Politicians' PhD's for Plagiarism, 3 Reactions
Does Plagiarism Last for a Lifetime? (Karl-Theodor zu Guttenberg)