Edition 23 (July 2014): WHAT'S NEW? | DID YOU KNOW? | CUSTOMER INSIGHTS | COMMUNITY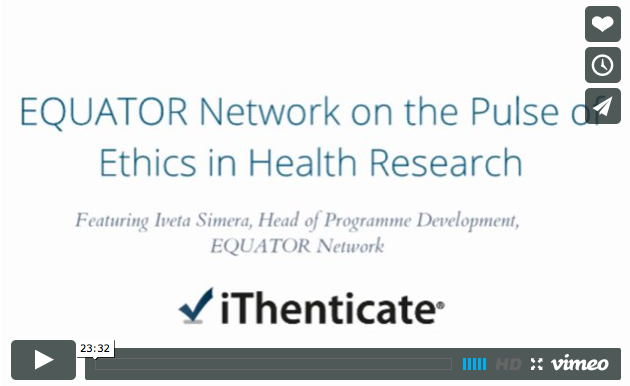 Although billions are spent each year on health research much of it is not reported adequately in the literature. This seriously undermines the usability of reported findings and misleads clinicians, researchers, policy makers and, ultimately, patients. Dr. Iveta Simera, Head of Programme Development for the EQUATOR Network (Enhancing the QUAlity and Transparency Of health Research), recently connected with iThenticate to delve into key ethical issues in health research. During this 20-minute interview, Simera highlights ethical issues in medical research today, explores the adeptness of current extrajudicial process for addressing ethical issues, and suggests steps that journals, authors and or/editors could take to help improve the quality of reporting of medical research.



Did You Know?

SEARCH 100,000+ PUBLICATIONS IN iTHENTICATE

Which publications are in the iThenticate database? Search 100,000+ publications that have archived 38+ million scholarly articles, books and conference proceedings into the iThenticate database through the CrossCheck powered by iThenticate service.

Customer Insights

UNIVERSITY OF MANITOBA RESEARCH INTEGRITY

To ensure academic integrity and avoid plagiarism, the University of Manitoba has integrated leading plagiarism detection technology iThenticate into their Research Integrity framework, and made the service available to graduate students, researchers and faculty.






Community

5 REASONS MEDICAL PUBLISHING PROFESSIONALS SHOULD USE PLAGIARISM DETECTION

Having recently participated in the annual conference at ISMPP, Bob Creutz from iThenticate raises five reasons that pharma, agencies and independent medical writers might consider incorporating iThenticate into their standard practices.