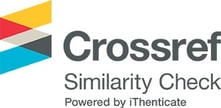 Crossref Similarity Check powered by iThenticate is an initiative between iThenticate and Crossref®, a membership association of publishers, established to help publishers prevent professional plagiarism and other forms of scholarly misconduct. With thousands of journals sharing published works with the iThenticate database, the Crossref Similarity Check service offers publishers a way to compare documents against the largest comparison database of scientific, technical and medical content in the world.
---
Participating Publishers
The world's leading publishers have implemented plagiarism checker software into their editorial processes. Over 1300 publishers, including the top 15 most influential publishers, have signed up for the Crossref Similarity Check powered by iThenticate service. Today iThenticate's database includes nearly 226,000 global scientific, technical, medical journals, including:
American Institute of Physics (AIP)

American Physical Society (APS)

Ammons Scientific

American Psychological Association (APA)

Elsevier

IEEE

Institute of Physics (IOP)

KAMJE

Lippincott Williams & Wilkins (LWW)

Nature Publishing

Ovid

Oxford University Press (OUP)

Sage Publications

Springer

Taylor & Francis

Wiley-Blackwell

Zhejiang Publishing United Group Co., Ltd
Crossref Similarity Check Database
There are three parts that make up the iThenticate plagiarism checker database. One part is the Crossref Similarity Check content from leading publishers. Nearly 60 million published research articles, conference proceedings and e-books have been indexed into the iThenticate database by leading publishers, making it the world's largest comparison database.
60M+ Articles, Chapters, Proceedings, etc.

226K+ Books, Journals and Conference Proceedings, Abstracts
Resources
Search CrossCheck publisher members, become a member, read articles about Crossref Similarity Check, sign up for a Crossref Similarity Check webinar, and see Crossref Similarity Check FAQs.

Crossref® is a registered trademark of Publishers International Linking Association, Inc. (dba "Crossref").