Edition 18 (October 2013): WHAT'S NEW? | DID YOU KNOW? | CUSTOMER INSIGHTS | COMMUNITY
What's New?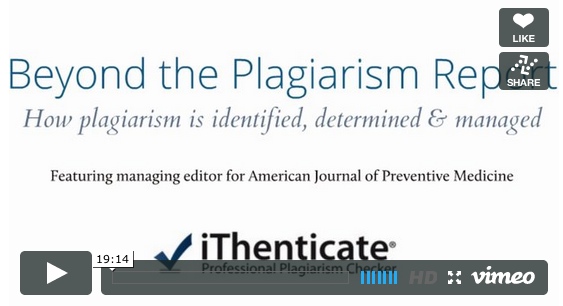 What are the precise steps an editorial team takes in determining whether or not a manuscript contains plagiarism? The complexity of plagiarism challenges editors in many ways, a challenge they take very seriously and handle cautiously and thoroughly. In this webcast, Charlotte Seidman, managing editor for Elsevier journal, American Journal of Preventive Medicine, starts inside the plagiarism report—describing best practices for identifying duplication and interpreting results—then takes us beyond the plagiarism report, illustrating how it can be used as a multi-faceted decision-making tool.

Did You Know?

PRESENTING iTHENTICATE'S NEW LOOK


Indeed we have updated our website! The refreshed appearance and layout includes a simpler navigation, a slicker page layout and improved search capabilities. These changes will provide an improved experience for visitors and customers. We invite you to browse around and send us any feedback.
Customer Insights

ACS IMPLEMENTS CROSSCHECK PLAGIARISM SCREENING


The American Chemical Society recently issued a press release highlighting its extended use of CrossCheck powered by iThenticate. ACS has decided to provide its 40+ journals access to the plagiarism detection service in an effort to deter forms of duplication, including self-plagiarism.
Community

AMWA ANNUAL CONFERENCE, NOVEMBER 6-9, OHIO


Attendees at the upcoming AMWA annual conference will have an opportunity to hear about plagiarism in the medical industry during a panel discussion titled, "The Rising Tide of Plagiarism in Medical Writing". Speaking on the panel is Jonathan Bailey of Plagiarism Today, Jason Chu of Plagiarism.org and S. R. Distelhorst of Northwest Health Communications.