Edition 19 (November 2013): WHAT'S NEW? | DID YOU KNOW? | CUSTOMER INSIGHTS | COMMUNITY
HELLO DOCUMENT VIEWER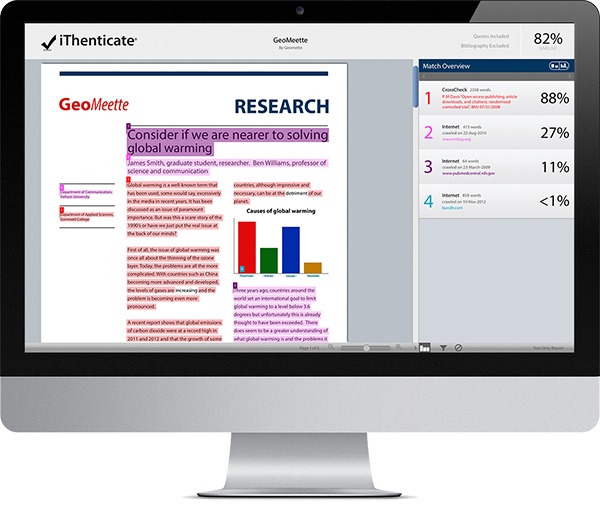 Introducing the Document Viewer. It's the newest way to view Similarity Reports. If you haven't seen it already, login to see what you've been missing! The Document Viewer displays uploaded files in their original format and has several other key benefits, including easily identifiable areas of matching text within the document, the ability to view underlying sources for a top source, and the ability to print out the formatted report with match highlights identified. Plus, our 'match tuning' has been enhanced. This means an improved quality of matches found within reports.

Did You Know?

WHAT YOU NEED TO KNOW ABOUT PLAGIARISM SOFTWARE | WEBCAST

Plagiarism detection software is accessible, affordable and effective, yet many misunderstandings exist about its use. This webcast features a lively discussion between two of the creators of the paper, "7 Misconceptions of Plagiarism Detection Software".
Customer Insights

WHY TAXAUDIT.COM VALUES ITHENTICATE

A core value of TaxAudit, particularly in its education department, is integrity. Though plagiarism may often be accidental, it could damage a company's reputation. To prevent incidents, TaxAudit.com has integrated iThenticate into its educational and marketing editorial processes. Their director of communications discusses their reasons for using plagiarism detection software more in-depth in this video.





Community

CROSSREF ANNUAL CONFERENCE

Product Manager of iThenticate, Mark Ricksen, hosted a CrossCheck session at last week's CrossRef User Group Meeting. "CrossCheck usage has increased almost twofold this year as scholarly publishers continue to adopt plagiarism detection technology into their editorial processes to ensure the originality of published works," said Ricksen.