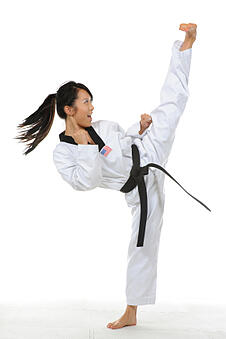 Allegations of plagiarism have struck a second International Olympic Committee (IOC) member, South Korean taekwondo gold medal winner Moon Dae-sung, according to South Korean news agency reports.
In addition to being an IOC member, Moon recently won a seat in parliament during the election and, as a result of the plagiarism accusations, has resigned from the conservative party currently ruling the nation. If proven, the allegations could lead to Moon losing his IOC membership, igniting concerns that this event may affect the status of taekwondo on an international level, possibly harming its potential to be selected as an Olympic core sport in September 2013.
The allegations of plagiarism relate to the academic work Moon submitted in order to obtain his PhD from Kookmin University in 2007. It is alleged by the university that Moon's doctoral thesis drew heavy from the work of another student. According to the Korea Herald, Moon's thesis was on the subject of "proprioceptive neuromuscular facilitation stretching and its effects on taekwondo athletes." The Korea Times reported that the university has found the similarities between Moon's work and that of an unnamed Myongji College student to be far too numerous and deep to accept as being fully legitimate. The full investigation is expected to take three to four months.
Moon has not admitted to plagiarism. In denying the allegations, he has stated that while he didn't plagiarize in the preparation of his doctorate thesis, he was sloppy in his academic work, making errors in attribution, as well as potentially misunderstanding the guidelines concerning the formal attribution processes associated with citing theoretical work that serves as a foundation for the sort of experimental thesis he was preparing. Moon also stated, according to Korean news agencies, that some of his errors stemmed from being somewhat overwhelmed and exhausted by the dual demands of academics and athletics.
IOC Membership in Peril Due to Plagiarism
Once Kookmin University made the allegations concerning the potentially plagiarized dissertation public, not only did Moon's PhD become threatened, but also his International Olympic Committee membership. If the allegations prove true, then Moon may become the second IOC member to face serious problems due to plagiarism this year. Pal Schmitt, was another IOC member who resigned as the Hungarian president also due to doctorate thesis plagiarism. If the allegations against Moon are proven to be true, then the IOC Ethics Committee is expected to convene to discuss rescinding his membership.
As with former president Scmitt's case, Moon's plagiarism has also caused damage on many levels. It is feared that the plagiarism scandal could hurt the chances of taekwondo being chosen as a core Olympic sport when the committee makes its selections in September 2013. Moon is also experiencing pressure to give up his seat in parliament on top of the problems he is facing with the IOC.
Citations
Hersh, Philip. "Second plagiarizing IOC member leaves political post." Chicago Tribune. April 20th, 2012. http://articles.chicagotribune.com/2012-04-20/sports/chi-second-plagiarizing-ioc-member-leaves-political-post-20120420_1_ioc-member-plagiarism-pal-schmitt
Associated Press. "SKorean IOC member and lawmaker-elect quits political party over plagiarism allegations." The Washington Post. April 21st, 2012. http://www.washingtonpost.com/sports/skorean-ioc-member-and-lawmaker-elect-quits-political-party-over-plagiarism-allegations/2012/04/21/gIQAvOdsYT_story.html
Kyu-wook, Oh. "Plagiarism case embarrasses taekwondo officials." The Korea Herald. April 24th, 2012. http://www.koreaherald.com/national/Detail.jsp?newsMLId=20120423001045